Lawn & Turf Care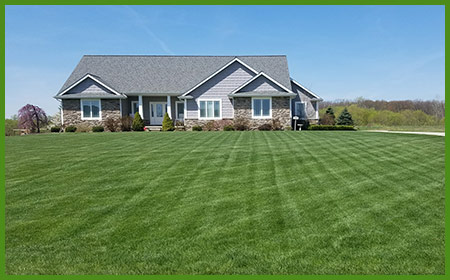 We work with you to put together a program that works to provide the results you seek while keeping within your budget. Outlined below are the various applications we provide. While some high profile, irrigated sites such as businesses and athletic fields may choose a higher number of applications, a multi-acre site in the country with no irrigation may want 2-3 applications, as weed control is the main objective. In some cases, a season long product may be used to supply nutrients for the turf.
Whatever the case, we don't recommend anything more than what is in your best interest and what you the customer need and want. As we service your property we may notice extra services that may help your lawn or landscape and we also run seasonal specials on beneficial services such as aeration. We, however, do not actively telemarket our customers and respect our clients privacy.
Lawn Care Program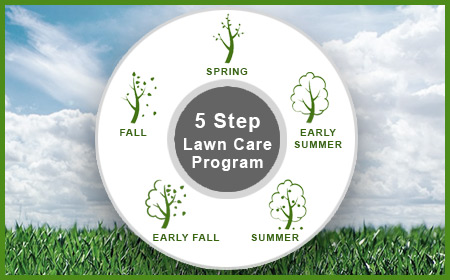 5 application program of fertilizer and weed control.
Spring
April –May
Quick release granular fertilizer, crabgrass preventer and broadleaf weed control (weather permitting) to get your lawn off to a great start.
Early Summer
May –June
Granular slow release fertilizer and liquid broadleaf weed control to maintain the color and control clover and dandelions in your lawn.
Summer
June –August
Granular slow release fertilizer, spot treatment for broadleaf weeds and crabgrass as needed. This treatment helps maintain your lawn's color through the stressful summer.
Early Fall
August –October
Using a granular slow release fertilizer, fall is the perfect time for broadleaf weed control. As they say "an ounce of prevention is worth a pound of cure."
Fall
October –November
Winterizer granular fertilizer helps to prepare your lawn for the winter by feeding the roots of the grass.
Lawn Aeration
Core aeration is the process of making thousands of small holes in the turf using a machine with hollow tines or spoons. The core diameter may vary. The typical depth is 2-4". These holes allow fertilizer, water and air to reach the root zone much quicker, resulting in new root and shoot growth as well as increase root mass. These holes also help to control and breakdown thatch that the turf created over time by reintroducing the soil plugs into the thatch mat. Compaction is also relieved when the hole is created in the soil. Signs that aeration may be needed:
Thin areas of turf
Standing water after a rain event
Cars driving on or parking on turf
Thatch layer thicker than a ½"
Lawn Slit Seeding
Slit seeding is the process of creating narrow slices approximately 1" apart through the thatch and soil for seed to be directly placed. This process assures great seed to soil contact. This process is used alone or in conjunction with core aeration to improve areas that turf may be thin.
Sports and Golf Turf Management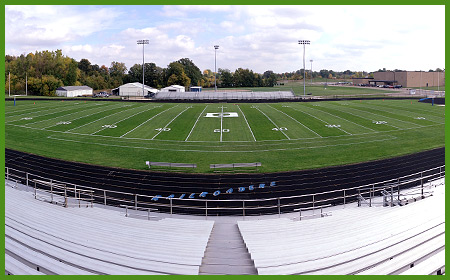 Our sports turf program is different than a "home lawn" program, in that it relies heavily on fertilizer that has a high potassium to nitrogen ratio. This is due to the high stress and wear of sports turf vs. a home lawn. We work with the individual school to set up a program so their fields "peak" at the right time, be it for homecoming, an invitational, or a regional or district playoff host. We can also consult with the school's maintenance staff on specific mowing patterns to enhance the aesthetics of the fields, along with irrigation and painting of lines and logos.
Vegetation Control
We provide many forms of vegetation control. From mulch and rock beds around residential and commercial buildings to school complexes and propane tank farms and other "industrial sites". We can formulate an effective weed control program to limit the number of weeds that even germinate in unwanted areas, let alone get large enough to be unsightly. We use specialty products made for each specific application, be it year-long control at industrial sites, fast knockdown of weeds for a special visit or event, or tree rings and fence lines at schools to limit the tedious and labor intensive job of string trimming.